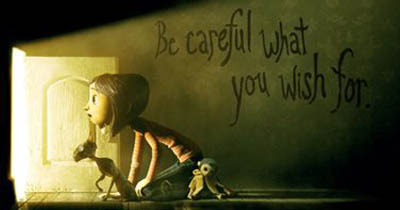 Title:
Coraline
Genre:
Movie
Rating:
PG
Stars:
5/5

Summary:
Based on the children's classic by Neil Gaiman,
Coraline
is a fairy-tale turned nightmare. Coraline Jones is bored with her current life, especially her garden catalog-writing parents, and seeks out a better version by traveling through a magic, wall-papered door in her new home. At first, her Other Mother and Other Father seem perfect, offering home cooked meals, new clothes, and a comfy bed to sleep in. Unfortunately, her Other Mother soon wants to keep Coraline all to herself and must do something tragic in order to make her stay.
Review:
I am absolutely amazed by this movie in which all of the sets, props, and characters were made by hand out of fun objects like guitar strings and painted popcorn. The hubs and I went to see this on Valentine's Day for a matinee date. It's certainly a movie enhanced by the consumption of
Sour Punch Straws
but they're not essential.
Be sure and check out this Wired article for fun insight into how the movie was made:
http://www.wired.com/entertainment/hollywood/multimedia/2009/01/pl_screen