Last week my hubs and I had a night out on the town to see the 2003 Tony award-winning musical
Avenue Q
.
Hilarity ensued at the "Sesame Street for adults" extravaganza that was singing puppets on stage. But not JUST singing folks, oh no. Those puppets were risque! I found it so fun to giggle at things I would never say and do while under the cover of dark theater lights. Aaron just about fell off his chair and into the aisle he thought it was so funny.
While Avenue Q made for a highly entertaining evening, Wicked wins my award for
favoritest
musical out there. We saw Wicked at the Oriental Theater in Chicago last year. Here are the details friends, and you must read to the end, because there's a special note for Austin-
ites
.
The gist
- Long before Dorothy landed her ruby-clad feet in Oz, the Wicked Witch of the West and
Glinda
the Good Witch were friends, even college roommates. Yes, sparkly blue
Glinda
the Good gets paired with the emerald green-toned Wicked Witch in the potluck roommate selection of the century.
The boy
- Of course! What could drive apart two girls better than a boy?
Fiyero
, all-around rebel and troublemaker who can't choose between the two witches.
The scandal
- Animals vs. animals. The
Ozian
government passes new legislation that won't allow Animals to speak, teach, or work. The Wicked Witch (an early PETA member) rebels against the government by saving a lion cub from isolation in a cage. (This same lion appears later as a cowardly friend to Dorothy.) The Wicked Witch then sets off to visit the Emerald City and talk to the Wizard of Oz about this new legislation. The Emerald City reveals the Wicked Witch's magical prowess when she causes monkeys to sprout wings and fly, scaring the citizens and causing them to officially brand her "Wicked."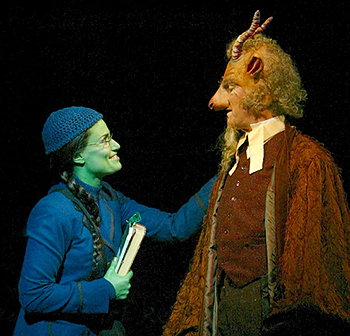 The music
- From "Popular" to "Defying Gravity," every song is singable and adds a great element to the story. You will
definitely
be buying the soundtrack the moment you leave the theater.
So here's the scoop Austin-
ites
. Tickets for
Wicked at the Bass Concert Hall
go on sale in less than 17 days! Get your tickets beginning May 16
th
for the shows on August 12 through August 30.
Hands-down,
this'll
be the most entertaining night on the town.